Show me your hands and I can tell your age…Nonsense: hand and feet ageing can be dramatically reversed by the use of a weekly natural lemon bath for all skin colours and types.
27 February 2012
60,679 views
125 Comments
Two features of the body that tend to set women apart from men are their hands and feet. Before giving you the ultimate hands and feet treatment that will miraculously regenerate, restore softness and smoothness to your fingers, palms, toes and soles, below are some useful daily tips.
Waiting for summertime in order to look after your hand and feet is not probably a good idea. Always wear gloves to protect your hands as much as possible from cutting, burning and skin decay caused by contact with washing-up liquid or cleaning products.
Many women are involved in household chores 24 hours a day, seven days a week, even when their male partners are meant to be helping them. This implies standing up for long hours and exposing their hands and fingers to different external temperatures and pressures.
According to the BBC Online Website Science, Human body &mind accessible on February 26, 2012 "More than half of the bones in our body are found in our hands and feet. There are 27 in each hand and 26 in each foot, and the way that they are arranged is remarkably similar… the two largest bones in our feet carry most of our weight."
It quickly becomes understandable why the first signs of the ageing process tend to appear on our neglected hands and feet. Skin can easily lose its elasticity and will tend to eventually turn saggy, with prominent veins.
We all know how unbearable it can be when some of our body parts age prematurely.
It is even preferable to have different colours of gloves, so you can easily identify the ones you use for kitchen-based tasks (maybe pink or neutral) from those you wear while doing the laundry purposes (blue?). Then there are the yellow marigold ones you use for mopping, and the thick leather ones you wear for gardening.
If gloves protect your hands, shoes will ensure the health and comfort of your feet. You are strongly recommended not to wear exaggerated high-heels or shoes that are too tight – not to mention socks or stockings. Doing so tends to result in the appearance of foot corns – a thickened layer that appears on a focal skin area in response to repeated and sustained pressure.
Calluses, meanwhile, are the more diffuse thickness of skin more common on the toes and under the ball of the foot.
But if you stick to observing these basic rules of thumb, while also soaking your  hands and feet in a lemon fruit warm bath  once a week, you should emerge with incredible, youthful-looking and beautiful hands  and feet and even at 50, no-one should be able to tell your age simply by looking at your hands and feet.
The advantage of following these simple steps is that not only will you stay looking good, and more importantly feeling good in your own skin, but your male partner will almost certainly enjoy all the more any massage session you care to  perform  with your  smooth, soft and beautiful hands.
Lemon is the queen of all detox fruits.
According to one of the creators of the Whole Body Detox Diet plan, the therapist  consultant Cindy Cleary: "Lemon and lime are powerfully antiseptic and antimicrobial citrus fruits, packed with vitamin C with a bit of vitamin B1, B2 and Niacin. Lemon supports your liver, improves your absorption of minerals, promotes weight loss, cleanses your blood, and alleviate indigestion. Vitamin C is a perfect immune-booster that can be used for a smart skincare."
It has also been proven by researchers from Penn State Milton S. Hershey Medical Centre in the USA that Vitamin C is an "ascorbic acid which is actually the key to the production of collagen, a protein that aids in the growth of cells and blood vessels and gives skin its firmness and strength". The advice continues: "Vitamin C also helps our skin repair itself by creating scar tissue and ligaments."
The Penn States Milton researchers also explain how the amount of Vitamin C included in citrus and lime fruits will protect our skins cells from UV and other damaging agents. It will lessen pigmentation at three per cent or alleviate inflammation.
Founded in 1963, through a gift from The Milton S. Hershey Foundation, Penn State Medical Centre was set up to promote enhanced quality of life and improves health and well-being.
Hardly surprising that its own fruit juice bath has garnered such a glowing reputation the ultimate low-budget home made manicure pedicure treatment that will turn the clock back in time is as natural and simple than what  most of us would have expected.
You don't need to spend a fortune visiting luxurious manicure pedicure salons if you follow the simple advice below:
Ingredient:
10 lemon fruits and three litres of water.
Preparation:
First, cut in half 10 large citrus, then place them in a medium casserole and pour in three litres of water.
Next put the casserole on the cooker and boil it for 15 minutes.
Get a bucket ready – and one large enough to contain your feet and hands – then find yourself a dry and tidy towel, a pedicure razor blade, a lanoline and virgin olive oil.
Finally, choose among your buckets or buy a new one:  for reasons of hygiene, you should not use the same bucket in the kitchen, the laundry, or for anyone else's bath.
Caution
Wipe away the nail colours with a nail vanish beforehand, to allow the contracted mixture to penetrate, nourish and straighten your nails and skin. Wait until the mixture is warm because if it is still hot you risk burning yourself.
Mix with your fingers and make sure the citrus peel melts properly in the warm water.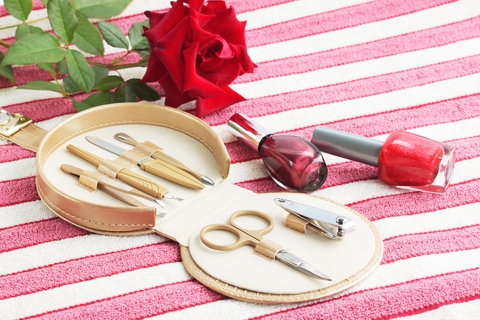 When you grate away the dead skin, corns and callus, make sure to be extremely gentle. If not, you will cut yourself.
Timing
Now is the perfect time to put your feet up and watch a good film, if you don't want to feel this process is too time-consuming.
Soak your hand and feet in the warm lemon juice for 30 minutes.
After that, remove your feet from the bucket, one after the other.  If not, by the time  you grate away dead skin, corns and calluses, the other foot will have dried out already – making any contact between the pedicure razor blade and your foot sole hurt.
After grating away the dead skin, it is vital to apply an emollient that will help to keep the skin in good condition.
But if you cannot afford any of the aforementioned hands  cream, you cas still use your virgin olive and jojoba oil  as a   finishing touch  to soften and smooth your skin.
For men and those whose profession involves a lot of daily pressure on their hands and feet, such as farmers, cleaners, builders, scaffolders, gardeners and even tennis-players, it is strongly advisable to use the same treatment, though maybe less frequently. Once every three months should do the trick.
Our bodies function as a whole: there is not a single part of them that should be neglected without this oversight having a negative impact on our wellbeing.
Looking after our hands and feet on a weekly basis is key. Don't wait until layers and layers of dead skin are harming you to respond.
The editor,
Rachel Tcheungna